Take one look at my shelfie and you'd be forgiven for taking me for a beauty influencer. Indeed, I bear all the classic hallmarks. For starters, I spend copious amounts of time zooming into my pores in the magnifying mirror. I double cleanse, own a jade roller and gua-sha my face with a rose quartz tool every night, whilst pondering my role in the universe.
But alas, I am not a beauty influencer. Which leaves me free to rail, rant and rave, whilst lamenting the monthly fortune I spend on miracles and quackery (cough *Vintner's Daughter*) .
Which is why, when Alessandra Steinherr, beauty influencer and titan of social media skincare announced a new range of beauty products in collaboration with Primark, I knew I would be trying every single one.
This post is very much an overview of the range accompanied by quick and dirty reviews of each product. For fuller reviews follow the links in the product description.
But first…
Who is Alessandra Steinherr?
Alessandra is known for being the former beauty editor of Glamour. This wide eyed, dewy-skinned London girl is the nation's social media go-to for beauty advice. She is known for her beauty collaborations with Nikki Makeup (meet Nikki here) and also happens to be an Estee Lauder ambassador. Her #AskAlex Instagram stream attracts thousands of questions from eager followers, which the preternaturally glowing 43 year old is only too eager to answer, on her daily commute, much to the bemusement of London cabbies.
The Alex Steinherr for Primark Beauty Range
We've all done it. Proudly strut around in our new threads, hoping that nobody cottons on to the fact that the basics that we are rocking with our Vetements outwear are in fact good old Primarni. Sugar-coat it if you will, the store we all hate to love, has seduced the best of us at some point in time. So the announcement of Alessandra Steinherr's collaboration with Primark, the bargain basement fashion outlet was slightly surprising to say the least. But not in the way you think.
If you keep up with Alex's stories, the products she champions tend to be sophisticated formulations by big budget skincare brands, with a price tag to match. Whether it's the latest £40 dry-sheet mask or hundred pound serum, you can count on Alex to have an opinion. Creme de la Mer, Estee Lauder and Orveda are all brands she has at one point or another recommended.
Revealingly, Alex has said,  
"Everyday I have the privilege of speaking to my readers via my social media platforms and the question I'm asked most is – what's the best high street skincare brand?  And I struggled to recommend one brand that offered a total skincare solution. I was already doing some behind the scenes work with Primark so a collaboration with them to fit this bill made perfect sense. Together we took a blank sheet of paper and started from scratch, working to develop 20 products that offer my readers and the Primark customer great skincare at great value."
"Great value" has indeed been achieved. But the sceptic in me wonders at what cost? That's not to say that simpler formulations don't work. It's just that some sacrifices must undoubtedly be made when developing a formulation where the end product costs less than £5. Of course, it's worth remembering that no matter how much "science" we're sold – our skin is both wonderfully complex and unbelievably simple at the same time and its needs are fairly straightforward. Which is why, we're keeping a completely open mind in our reviews.
What to expect from the Alex for Primark Skincare Range?
The timely launch comes just months after Primark announced that all of its skincare, haircare and makeup ranges are now cruelty-free – no, they don't get any brownie points for this, but we do welcome them to the club… and 2018.
The range has been two years in the making. There are 20 products which fall within 5 key ranges: pollution solution, sleep spa, maximum moisture, plump & glow and pore balance.
Looking at the ingredients it feels like the range wants to be all things to all people. There are the high-tech acids and hyaluronics (read the hyaluronic myth) beloved by science skincare buffs, which are combined with ingredients like lotus leaf extract, raspberry leaf and charcoal, for the natural mamas. The real question is how the range fares in practice, especially given that some of the products contain dimethicone, a silicone oil which plagues cheap skincare lines across the high-street. 
Our experience of the range so far has been a combination of elation and disappointment … scroll down to find out what we rate and what we slate.
The Products We Are Testing
Maximum Moisture Collection
Review Maximum Moisture Supreme Sheet Mask by Alex Steinherr for Primark €4
"The Supreme Sheet Mask gives a powerful hydration surge and immediate skin barrier support. Loaded with glycerin, amino acid, lotus flower extract, its innovative texture holds the essence 12 times better than a regular fibre mask."
This is the jewel in the crown of the collection. It broke us out, left us red and itchy. Contains silicone and potential irritants. Read more here….
Rating 2/5
Pore Balance Collection
Review Low-pH Sulphate Free Cleanser, €5
"Formulated with Salicylic acid and Raspberry leaf extract, this low pH gel cleanser respect skin's balance and clears makeup and impurities without stripping. It's ideal for normal, combination, oily and acne prone skin types."
We love love the formulation of this gentle cleanser. Left skin soft and perfectly clean – not stripping or harsh. (full review pending).
Rating 5/5
Plump & Glow Collection
Review Plump & Glow Power Sheet Mask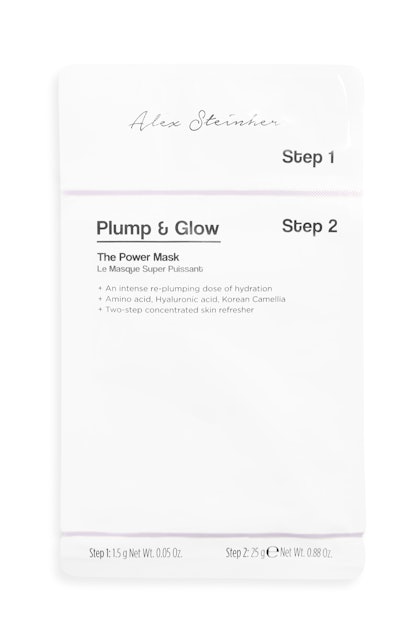 "An intense replumping dose of hydration… Amino acid, hyaluronic acid and Korean Camellia… Two-step concentrated skin refresher"
This is a tricky one. We neither hate or love this product. Packed full of humectants like butylene glycol, glycerin and hexanediol, the mask is designed to leave skin plumped and moisturised. On removal quite a lot of product remains on the skin and you have to physically "work it in" – it's hard to say how much of it absorbs, as it more of dries on the skin, leaving a very discernable trace of product just sitting on the face. Whilst it wasn't irritating like the Maximum moisture mask, the skin still felt a bit warm and tingly after use (not in a good way). The "two-step" process is also a bit of a gimmick, with the same main ingredients present in both steps.
Rating 2.5/5
Plump & Glow Moisturiser, €6
"An instant skin transformer, the lightweight serum-in-cream formula blends hyaluronic acid with natural extracts of pink pomelo and centella asiatica to leave your skin smooth and hydrated with a healthy, dewy glow."
Pore Balance Collection
Super Detox Clay Mousse Mask, €6
"This gentle Kaolin Clay mask is formulated with Niacinamide, Charcoal and Raspberry leaf to latch onto dirt, unclog pores and target imperfections. The high performance actives will deliver the ultimate deep cleanse."
Pollution Solution Collection
Daily Skin Starter, €6
"An incredible skin primer that smooths skin texture and perfectly primes for superior makeup application and wear. With added anti-pollution and anti-blue light actives- lactic acid, peach flower and lychee extracts, skin looks radiant and reinvigorated."
Sleep Spa Collection
Sleeping Face Mask, €6
"This night treatment mask will relieve tired skin as it replenishes and hydrates while you sleep. Formulated with unique Anti-fatigue Prodizia complex and natural willowherb and chamomile to revive, calm and soothe."